Introducing Entreprinity
---
Engineering Connections Everyday
Entreprenity is an online platform that empower entrepreneurs from everywhere to connect with one another. Its build to allow entrepreneurs within vOffice Global Network, Acceler8.ph, Cre8.id and Uppercase.asia to fluidly communicate regardless of the distances. Entreprenity aims to be the pulse of over 20,000 creators, business owners and professionals.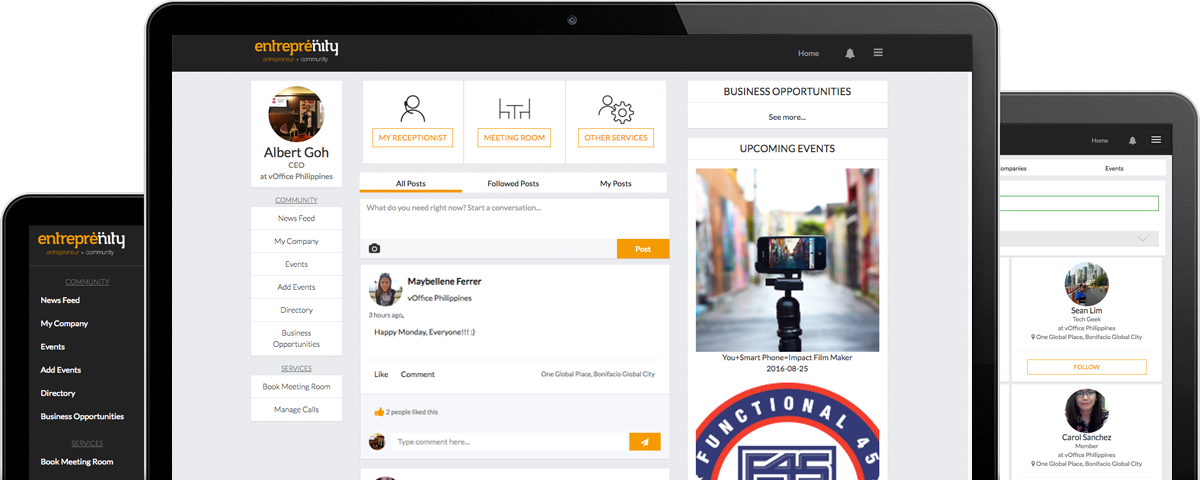 Know
How
Members can instantly harness the know how of other members within the community for assistance.
Advertise
& Sell
Members can like wise advertise and sell their services to other members instantly.
Connect with
Members
Lets member connect with members whom are not within the same region / country for wider opportunity.
Book
Spaces
Lets member instantly book spaces for their meeting and working needs.
Deals
& Discounts
Lets member enjoy great deals and discounts thru our 3rd party partnership.
Showcases
Lets member organise and showcase their event to other members whom are business oriented. They get instant exposure.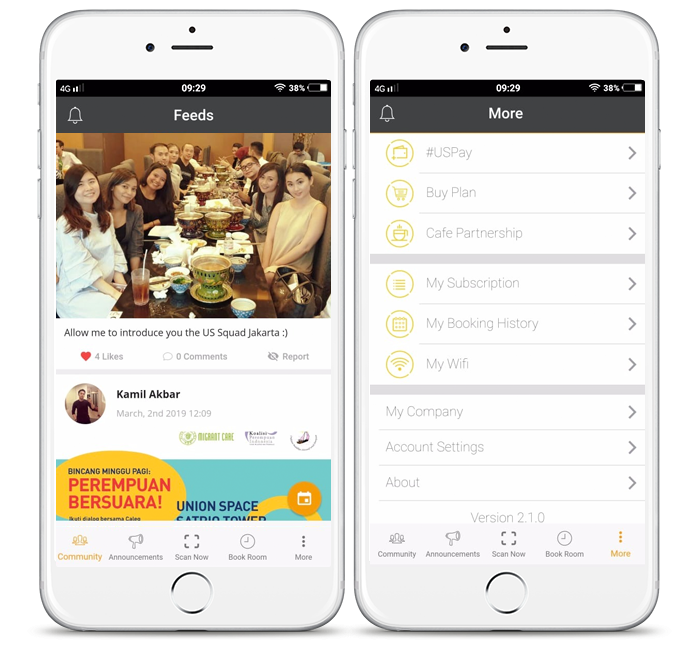 UnionSPACE
App
Included in every memberships
Our members platform enable all our members, over 24,000 of them to connect & interact and allows you to book your spaces, purchase services, snacks and others.
Be Connected
24/7
Our app makes it easy
---
Key Features
Let members view each other profile and know what products and services they are offering.

Members can connect with each other for collaboration.

Allows member to post job opportunities so other member can response for offer to help / sell their services.

Facilitate member to organise events within our spaces and get coverage on our network.

Members can follow other members to get updates of followed members updates.

Allows members to book meeting rooms and spaces in real time.

Lets member check their call answering service records, details and reports.

Allow members to check into a space and facilitate connections among members.
Crowd-source the community
Networking
Advice
Job Listings
Real-time Access
Book conference rooms
Purchase Snacks & Services
Manage your Calls & Mails
A few companies that trust UnionSPACE